An Addington Historic Site
Addington Mill
by Vicki Baldwin
(from Mountain Ideals - Summer, 1998, page 22-24)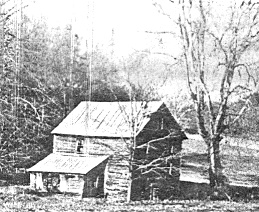 Once a landmark of our local community, Addington Mill is now a distant memory for
most local folks. But for native Maconian, Body Lee, there was new life breathed into
that memory when he discovered that the old grist mill had been dismantled and moved
656 miles north to Sandusky, Ohio. There, on Cedar Points Frontier Trial the restored
mill -- complete with its original water wheel and mill stones - remains.
The ton-heavy mill stones no longer grind corn into meal or wheat into flour, but they still
serve as a reminder for a younger generation of the days when people grew their own corn
and wheat and had it ground at a local mill.
Boyd Lee had no idea the mill had been restored until he happened to see an article in one
of his leather tooling magazines a couple of years ago that mentioned Cedar Points
Frontier Trial in Ohio. He began reading the article and learned that one of the main
attractions on the trail was Addington Mill, established in 1861 in Macon County.
I couldnt believe it, Lee said. It brought back a lot of good memories from those
days. His first memory of the old grist mill, which stood near where Union Elementary
School is today, is his father taking him to have corn ground for the family. If he closes
his eyes he can still see water pouring into the wheel wells, causing the mill race top push
the machinery into motion. As the huge mill stones begin grinding, cornmeal pours down
a narrow chute into a wooden bin.
Theres no meal like homegrown meal, according to Lee. Though he never actually
working in the grist mill, he did work for J. W. Uncle Jake Addington, who inherited the
mill and surrounding farm from his father, J. B. Addington.
In addition to running the mill, Uncle Jake also operated a dairy farm. I was milk boy,
Lee recalled. He (Uncle Jake Addington) used to pay me $60 a month to help him mile
the cows, bottle it up and deliver it. We used an old Hudson car.
At time Lee would watch miller Harve Tallent, who always seemed to have a powdery
white coating of ground grain on his overalls, as he made sure the maze of wooden gears
ran smoothly. Sometimes Mr. Addington would ask Lee to shovel sand out of the mill
race so plenty of water could pour down the channel and keep the stones turning. But,
mostly he just made sure not to get in the way,.
When Lee was in the 10th grade he moved from his Longview home to live with Mr.
Addington and his family. We needed the money and I always liked working there, he
said. The Addingtons were such good people. They had a great influence on my life.
Since the Addington family and the old grist mill held so much sentimental meaning for
Lee, he and his wife, Juanita, decided to visit Sandusky, Ohio, when they learned the
historic mill was still standing.
The mill was purchased by Cedar Point in 1971. It was disassembled, transported to
Ohio and reassembled to almost original condition. It became part of Frontier Trail, which
opened in May of 1971, and features numerous other buildings, such as a log cabin and
blacksmith shop, from the same time period.
Most of the other buildings on the trail were purchased from Ohio; however, historians
working for Cedar Point had to expand their search to find a restorable, authentic grist
mill. That search led them here to Addington Mill. Though it hadnt been used since
1964, the mill was still intact and in good working condition.
According to a historical brochure published by Cedar Point, Addington Mill is very
unique in that all of its working parts were constructed of wood. Most grist mills as old as
Addingtons were converted from wooden to metal parts to withstand friction. The last
known alteration done to Addington Mill before it closed was in 1927. The wooden
waterwheel was replaced with a metal one, made by the Fitz Waterwheel Company of
Hanover, Pennsylvania. The remainder of parts exist as they did more than 100 years ago.
Lee said he is grateful the old mill that holds so many fond memories from his youth is
still standing so people from all over the country can enjoy a little piece of the past. His
hope is that the restored mill would make Uncle Jake smile.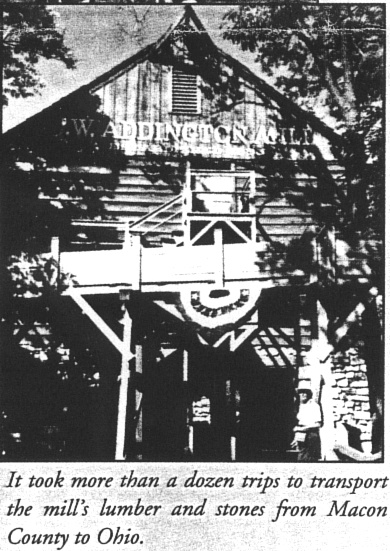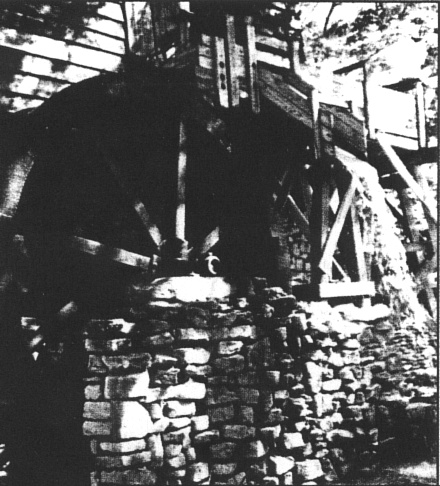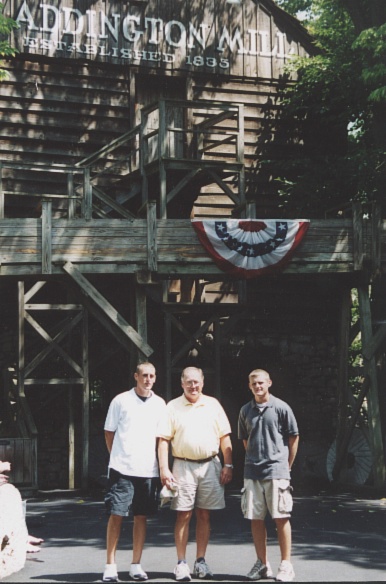 Cedar Point, center: Dale Addington, ggggg grandson of Henry and Sarah Addington and 2nd cousin, 4 times removed from John Brownlow Addington (1831-1914) who built the mill in Macon Co., NC. Dale's son Stephen on left and son James on right in photo.
View another photo of the Addington Mill at Cedar Point.
.